Rebecca Reynolds
Parent from Northiam. Student passed 1st time.
"My son passed first time with Paul, who surpassed all our hopes for a driving instructor! He is calm, patient and humorous and ultimately adaptable. He fitted us into a busy timetable throughout the COVID crisis, at short notice of a test date, after a long wait! His feedback and support to parents is amazing throughout a very difficult time. He was always focused on the goals, the LDC handbook and website are brilliant, breaking down tasks into manageable chunks. He is full of wisdom and good advice, even after the test success! We would thoroughly recommend him! 1st class!"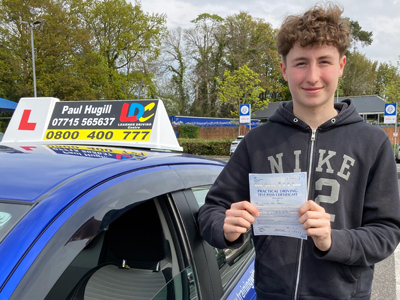 Gil Anthony
Cranbrook School student. Passed 1st time with just x4 minors
"My experience with Paul was an absolute joy. I found his methods of teaching well structured which benefited me a lot. Paul as an instructor was very calm and never put me under pressure which made me look forward to every one of his lessons. Before my test he went into great detail, giving me the best tips and made sure I performed my best on the day. Paul is fun, professional and generally just such a nice man. I would highly recommend Paul for anyone looking for an instructor. I give Paul 5 Stars!"
Fiona Gillan
Cranbrook School parent. Son passed 1st time.
"I couldn't recommend Paul highly enough to any concerned parent out there. He has made my son a confident and safe driver - which is all we wish for. My son will now be using Paul for some Motorway driving experience. My son passed first time, achieving hardly any minors, and thoroughly enjoyed his lessons, and his new found freedom!"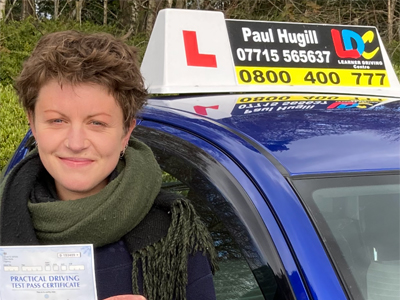 Caty Palmer
Passed 1st time with just x1 minor
"I had a brilliant experience learning to drive with Paul and would highly recommend him as an instructor. I was very nervous when I started driving but Paul was understanding, encouraging and friendly which helped hugely. He has since supported me to become the confident and safe driver I am today. Paul's coaching style is incredibly thorough and his system breaks everything down into smaller more manageable topics, which has enabled me to learn in a methodical and stress-free way. Paul was very reassuring and had lots of tips and techniques for dealing with anxiety which were invaluable in helping me to perform during the test. I passed first time with one minor and would definitely credit this success to Paul's responsive and meticulous approach."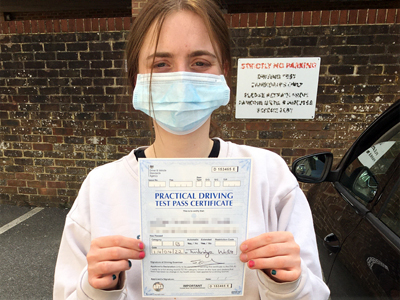 Olivia Tyler
Passed 1st time
"My experience with Paul was exceptional. His patient, encouraging and realistic approach to learning to drive ensured a high level of confidence in my general driving, but also helped me to secure a first time pass. He was incredibly adaptable and accommodating to my schedule and personal goals, with his clear lesson plan and effective communication highlighting exactly what I needed to improve on to ensure progress. I would highly recommend Paul to anyone who wishes to become a confident but safe driver. Thanks Paul!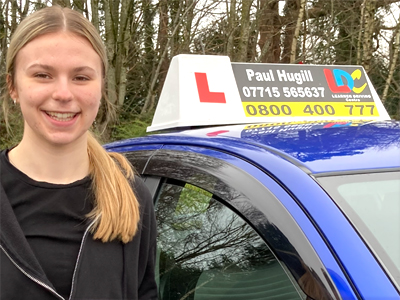 Sasha Webber
Passed 1st time with just x2 minors
"Paul made learning to drive a positive and enjoyable journey. He found ways to explain things in ways that applied to me specifically, so as to make them more memorable and significant. I found the performance psychology aspect especially interesting and useful and will use it in many parts of my life in the future."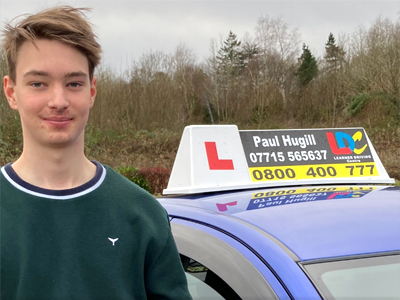 Ned Richards
Sandhurst based University student. Passed 1st time with just x1 minor.
"I found Paul to be an extremely strong instructor. He explained concepts in an intelligible manner, often visualising the ideas and using repetitive expressions to make them easy to remember – thus leading me to have confidence in my ability to drive safely during my test, as well as in the future. His sport-psychology tips also helped me remain calm and measured during my test. Paul is calm and patient, and his good-humoured nature made lessons enjoyable. 5 stars.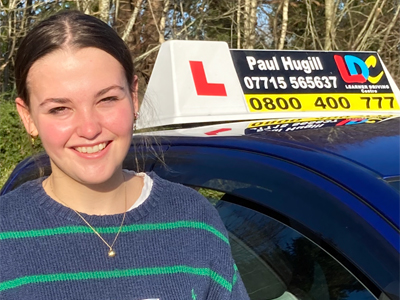 Ollie de Winton
Passed 1st time with just x3 minors
"Paul was fantastic from start to finish! He always found a positive thing to say in response to both successes and mistakes which gave me confidence to pass 1st time. His approach to teaching and helpful tips made me feel comfortable driving alone. Thank you so much!!"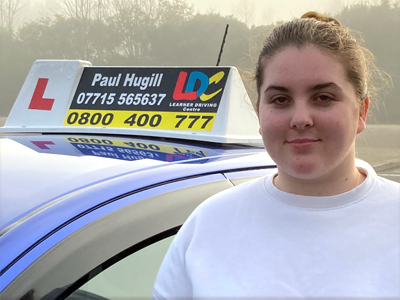 Eva Ham
Parent whose daughter Passed with x1 minor
"Our Daughter Zoe was so fortunate to have Paul as her driving instructor, very understanding, putting her at ease, everything was explained clearly and if she wasn't sure she always knew she could ask for more information and not feel uncomfortable about doing this. We as a family would highly recommend Paul".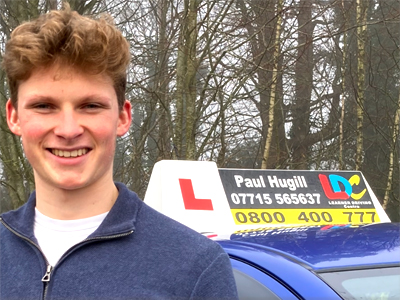 Sam Lawson
Passed with x2 minors
"My lessons with Paul were friendly and also professional, I found his patient approach was an important factor in learning the ropes and helping me to not only pass but to set me up as a safer driver. His informative methods were incredibly useful and stuck with me throughout the lessons and test. I would definitely recommend Paul and the cheerful lessons he offers. It's been a pleasure."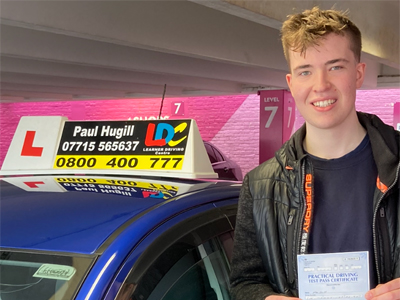 Max Smith
Passed 1st time x3 minors
"Paul is a phenomenal teacher whose coaching style is out of this world. Paul was very calm despite the challenges I faced. He inspired me to push past my potential and I had very fun & humorous lessons that kept me engaged. When learning with Paul you don't just learn what happens in the car, you also learn coping techniques & soft skills for everyday life. I would highly recommend Paul for students who are looking to pass 1st time."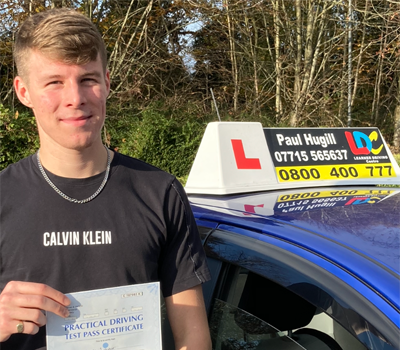 Henry Laver
Cranbrook School student. Passed 1st time.
"I have had a very good experience learning to drive with Paul and this was helped massively by his use of repetitive phrases and sporting analogies. After passing first time I would definitely recommend Paul."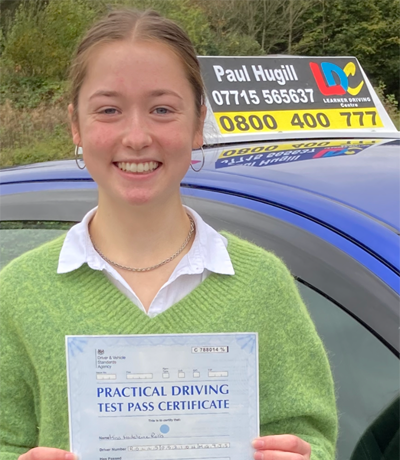 Maddie Rolls
Cranbrook School student. Passed 1st time.
"My experience with Paul was extremely positive. I found that Paul as an instructor is very calm and he developed my confidence. As a first time passer, I found Paul's psychology and mindfulness before the test extremely beneficial and he pushed me to perform at my very best. Paul is fun, humorous and professional. I would definitely recommend Paul for anyone who is looking for an instructor."
Izzy Bolton Ferris
Cranbrook School student. Passed 1st time (0 minors)!
"Since passing I have been in the car non-stop and I cannot thank you enough for the sense of confidence I feel behind the wheel. Learning to drive with Paul was an easy and enjoyable experience. He really took the time to set me up for a lifetime of safe driving. Paul's extensive knowledge surrounding Performance Psychology meant that I was mentally prepared for my test. As an instructor, Paul is incredibly patient and encouraging. Overall, I cannot recommend the LDC process enough due to its thorough and methodical approach."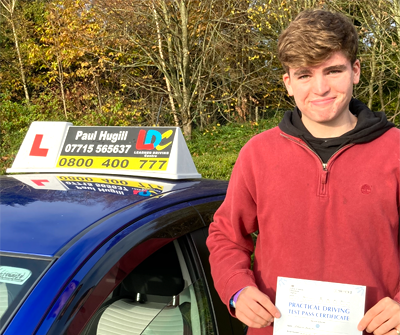 Edaward Hastilow
Kings Canterbury school student. Passed 1st time (2 minors).
"I had a very good experience with Paul as my driving instructor, not only did he get me to pass my test first time, he also taught me in a way that means I feel confident and safe on the road and my parents are happy to lend me the car! As an instructor, Paul is calm and measured whilst also being firm and safe. I would highly recommend Paul as he is professional, good-humoured and a very good instructor. We talked a lot about sport psychology throughout the course, something I found very useful in the moments before my test."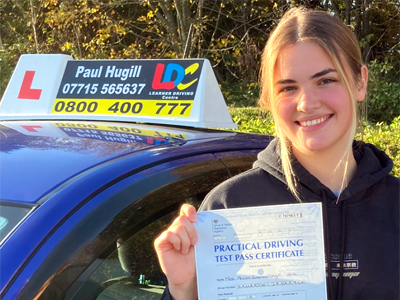 Alicia Zamarriego Vere
Benenden School student. Passed 1st time.
"Paul was an excellent driving instructor who taught me everything I needed. I managed to pass first time which was great. He paints pictures in your mind so you remember them later to improve your driving. Before the driving test he mentally prepared me, which was much needed. I would highly recommend him!!"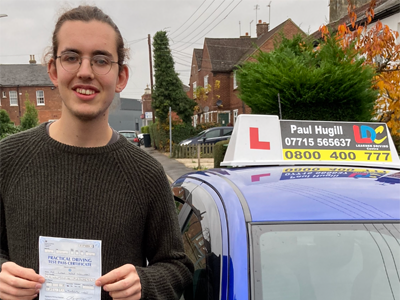 Milo Baker
Ex Cranbrook student. Passed 1st time (4 minors)
"I had an extremely fulfilling driving experience with Paul. His thorough and in depth knowledge of road usage, Tunbridge Wells in particular, was incredibly helpful in allowing me to pass my driving test first time. His use of acronyms helped in remembering key details for safe driving, and his calm demeanour made for a reassuring atmosphere in the car when having lessons. I would recommend him to anyone who wants to feel safe and confident on the road."
Tarabell Middleton.
Cranbrook School student. Passed 1st time (only x2 minors)
"Paul is an extremely diligent and thorough. I really appreciated how he took the time to explain things fully, rather than expecting me to just do it. He has excellent insight into the driving test process, and explained all the steps and reasons for passing or failing the test, which I greatly appreciate. I ended up passing 1st time with just 2 minors. Well worth it, highly recommended to anyone taking a test in the Tunbridge Wells area!"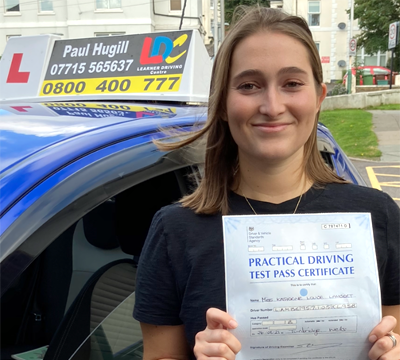 Katherine Lambert
Mature student, Cranbrook. Passed 1st time.
"I really liked the structure of the LDC method and felt it was very comprehensive, with a focus on safe driving for life rather than quickly passing the driving test. Paul was an excellent instructor and helped me to juggle working with learning to drive, offering me 3 hour lessons in the run up to my test to get me ready. Paul helped me to progress quickly and really built my confidence, with useful tips to stay calm and focused during the test. I will definitely go on to book a motorway driving lesson with him and couldn't recommend Paul strongly enough when learning to drive."
Geoff Mason
Parent of Claremont School student
"I just wanted to add our many thanks for helping to get Jack through his driving test first time. With Covid it's been quite an experience but I know that Jack has enjoyed the challenge and we are both absolutely delighted with the safe and confident driver he has become. I appreciate the amount of work that goes in your end and your attention to detail is phenomenal, we would recommend you to anyone without hesitation. We will definitely be taking you up on the motorway driving lesson."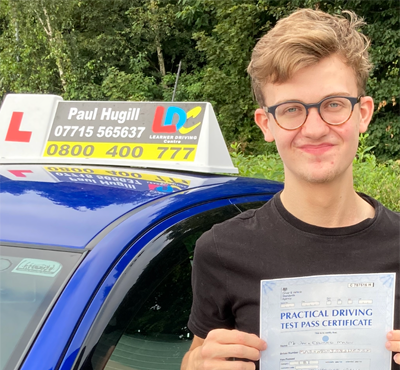 Jack Mason
Claremont School student. Passed 1st time (2 minors)
"Paul is a patient and supportive instructor, and I would highly recommend him. I am particularly grateful to him for settling my nerves as I approached my test date with his knowledge of the psychology behind staying calm, giving him a unique selling point in my opinion and ultimately ensuring that my first test was my last. I found the LDC system helpful in the sense that it allowed me to track my progress throughout, giving me more motivation as I gained more experience on the road. Thanks again Paul for all your help!"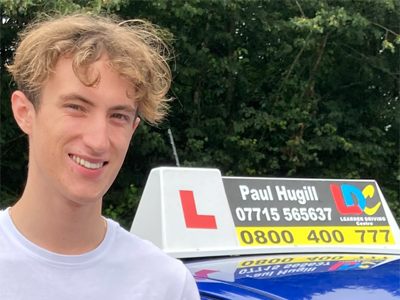 Justin Parker
Cranbrook School student. Passed 1st time (3 minors).
"I would recommend Paul. He is very calm, patient and encouraging, managing to make each lesson engaging and fun. Paul gave me confidence right from the start. For me, the LDC driver skills workbook was especially helpful in providing the theory behind driving scenarios. I am certain that this paired with Paul's expert tuition has set me up to be a safe driver for life. The psychological preparation offered on the lead up to the test day put me in the best mindset for a first time pass. Thank you Paul!"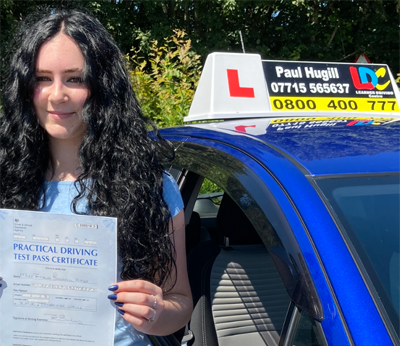 Tatiana Hissey
Hawkhurst based student. Passed 1st time (2 minors)
"Overall I have had an amazing experience with Paul, he provides clear targets and makes sure you are on track to pass your test, this helps to build confidence for the test which is crucial. With Paul's tuition I was able to pass first time with only 2 minors!"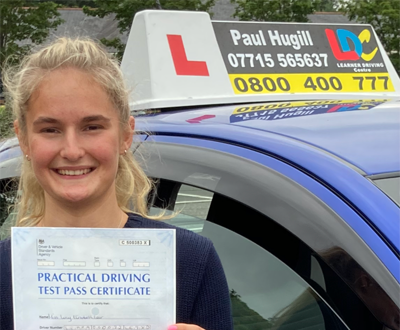 Lucy Lear
Sandhurst based student. Passed 1st time.
"Learning to drive with Paul has been an easy process despite the problems faced with Covid. Paul has an effective teaching technique such as using 'repetitive phrasing' and storytelling which has enabled me to constantly remember safe driving and how to complete difficult manoeuvres. The LDC method really worked for me as it meant I could use the Drivers Skill Workbook to revise and remind myself on anything I can improve on for future lessons. I would especially recommend Paul as I passed my theory and practical test the first time, and have the confidence now to drive on my own even in different weather conditions. Thank you Paul!"
Deanne Thomas
Benenden School parent.
"I can't thank you enough for your kindness and patience with Charlotte and for giving her such a great start to her driving life. We very much appreciated the way you made her a priority over the past month, it was really very kind and thank you. Charlotte has felt so comfortable with you and your positive encouragement has been brilliant not only for her driving but actually for her mental health too. I am sure she will do some motorway driving with you and she hasn't been out of the car really since she passed. It has done her self-confidence the world of good."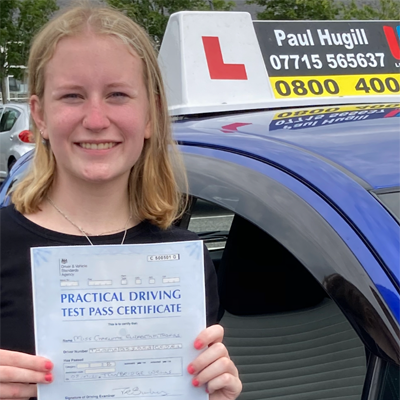 Charlotte Thomas
Benenden School student. 1st time pass.
"Paul helped me with my confidence and also helped me calm my nerves involving sports psychology. Paul goes above and beyond for his students and this is helped by LDC's way of teaching. My workbook and the online hub helped me both with driving and my theory, allowing me to pass both on my first try. I could not recommend Paul enough due to his dedication to helping his students learn and also pass 1st time."
Jacqueline Woolf
Parent Rep Benenden School
"I can wholeheartedly recommend Paul as a driving instructor. My daughter has thoroughly enjoyed her lessons...Paul is incredibly calm and really gave her confidence right from the first lesson. From a parents point of view, his efficiency and communication is absolutely wonderful, even during this tricky time when no driving lessons were possible, Paul kept in touch with regular emails updating us on the current situation. He is a brilliant instructor……just wish he'd come and give lessons in London."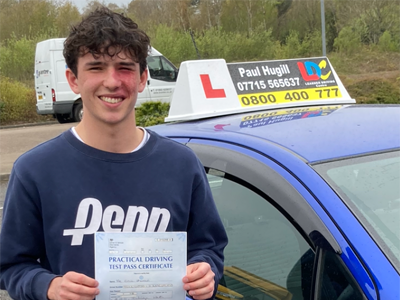 Ernie Shannon
Cranbrook School student. 1st time pass.
"I had a great time learning with Paul, he is very calm in all situations and he also manages to inject some humour in the process. I was not only very grateful for all the practice routes he took me on, but also the psychological preparation just before the exam, both of which I am sure were strong contributing factors to my passing first time. I think the driving skills book given to me as part of the LDC system was so useful in understanding different situations and how to handle them safely, and would definitely recommend the system and Paul to anyone learning to drive."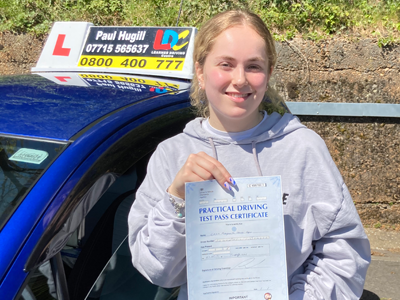 Emma Gough Cooper
1st time pass.
"I couldn't have asked for a better instructor than Paul. I had full confidence from the start that, with his patience and diligence, Paul was going to set me up for a lifetime of safe driving. He made me feel at ease which is why I thoroughly enjoyed our lessons together. Paul gave me little tricks and good advice to help me keep calm, and gave lots of motivational talks resulting in a 1st time pass. Paul was both professional and adaptable. Using the LDC workbook and other resources to methodically work through all the learning goals, helped set me up perfectly for my driving test. I would definitely recommend Paul as a driving instructor."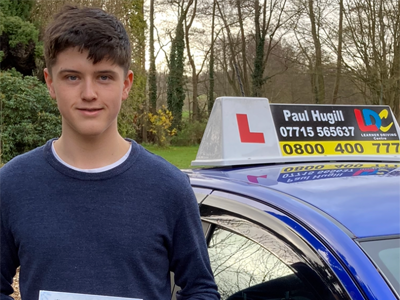 Harrison Neal
Cranbrook School student. Passed with only 2 minors.
"Paul has been confident and a calm teacher to learn with, all while being in control and helpful. He teaches in depth, in addition to useful techniques and points to look out for. He has always been professional and has a good sense of humour. I would definitely recommend Paul to learn to drive with, as I progressed quickly and learned some very useful tips for my future in driving. LDC has provided a professional and easy experience when booking lessons and delivering value for money."
Lisa Neal
Parent of Cranbrook School.
"We would like to thank you for all the encouragement and support you have shown Harrison during this tumultuous year. His father and I really appreciate it. Your communication was always brilliant. Harrison is now beaming from ear to ear - he will remember your kindness."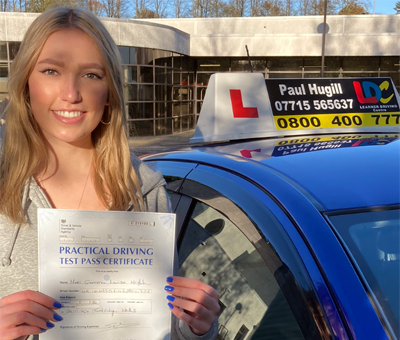 Gemma Wright
Cranbrook School student. Passed 1st time.
"Thanks to Paul I passed first time, he accommodated my personal schedule very well and helped teach me to drive safely through kind yet assertive instructions and demonstrations. If you want to learn to drive safely for the rest of your life and not just to pass your test I would thoroughly recommend learning with Paul."
Helen Avery
Parent of Cranbrook School student.
"As a parent, dealing with your child's new freedom to drive is daunting. Knowing that my daughter has learned to drive with Paul adds a reassurance that she has been taught to drive safely. His manner is calm and patient – so important when getting through that teenage façade!"
Lucinda Hamilton
Parent from Sandhurst. Student passed 1st time.
"We were lucky to get Paul, what an efficient and seamless service he runs. Everything is taken care of with great detail. From a parent's perspective we knew our son was in great hands. We knew that Paul was going to make him into a safe and conscientious driver. Paul was extremely patient, calm, thorough and understanding of a boy desperate for his freedom. He has a great affinity with teenagers, with humour and firm when necessary. We could not recommend him higher, and have already booked him in for our daughters a few years down the line. A totally 5* service.
The LDC website and book are absolutely essential and really helped our son with the intricacies of road and car safety."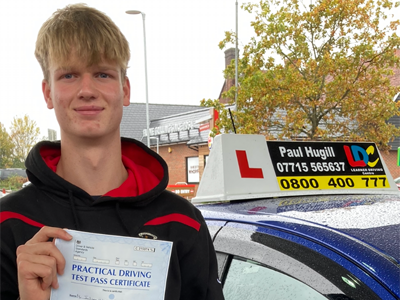 Jackson Hamilton
Skinners student. Passed 1st time.
"I had a very good experience with Paul because of his calm and reassuring teaching technique that made me feel confident and at ease while driving. I would recommend Paul because his lessons were always helpful and I improved my driving skills after each one. The LDC hub also helped massively with my theory and learning driving skills and techniques. All of this meant that I passed both my theory and practical first time."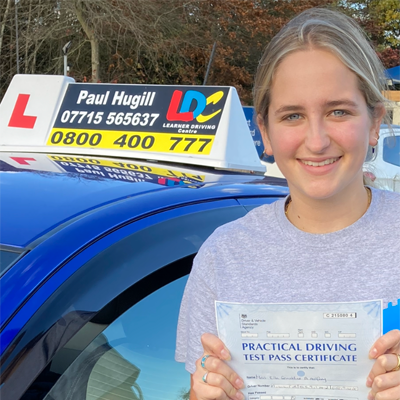 Ella Alfrey
Benenden student.
"My experience with Paul has been very positive and I would highly recommend him. He gave me confidence behind the wheel and helped me progress even during the pandemic. Thank you very much for all your help with my driving!"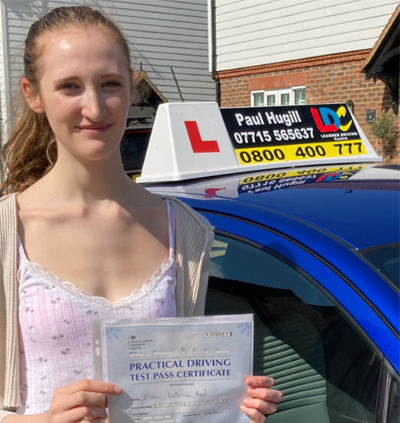 Ellie Reid
Cranbrook School student. Passed 1st time
"My parents had already started to teach me how to drive, but having Paul's service of professional lessons, experience, tips and feedback went a long way towards securing my first time pass (with only two very minor faults). Paul was flexible around my learning and school/exam commitments and we worked as a team, particularly in an intensive last month of preparation by driving all the test routes at least once. I could also see how happy and proud he was of me getting my first time pass. Thank you Paul. See you for the lesson on motorway driving soon!
Pamela Reid
Parent from Cranbrook. Student passed 1st time
"The choice of instructor was very important to us. Paul never disappointed us; being organised, professional and always willing to stretch that extra mile in relation to teaching safety and road craft. What I particularly valued, was Paul's commitment to his students with many sound words of advice, challenge where required but always working towards building confidence and safety. Good on you Paul, especially through the frustrating COVID times. We particularly liked the sound test route preparation in Tunbridge Wells. The first time pass mustn't go unmentioned. We are over the moon for our daughter. Thanks!"
Kate Hargrave
Mother from Benenden School
"Many thanks for the motorway lesson with Lucy today. She found it hugely beneficial and great for me as a mother to know that under your guidance she has been guided on a busy motorway and though London traffic. My only upset is that you don't live closer so you could teach Lucy's two sisters also!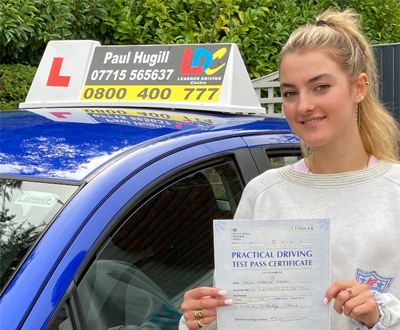 Milly Street
Benenden student. Passed 1st time
"I felt very comfortable with Paul right from my first lesson. He is very warm and friendly and he was very reassuring and put me at ease from the moment I got in the car. My early first lessons were taken in quiet areas which gave me the confidence to learn through my mistakes as a learner driver. Paul is calm and very professional and I enjoyed my lessons. It has taken quite a long time for me to get to my test date due to Covid and Lockdown delaying it - but after a few post lockdown extra lessons I finally took my test and passed first time! Thank you so much Paul."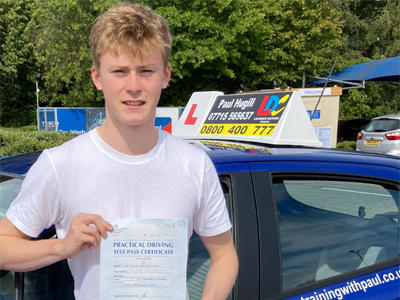 Luke Gare
St Bedes Student. Passed 1st time
"When I started with Paul he gave off a strong connection of trust towards me, a confidence he had in me that in time really developed personally. Lessons were always focused yet I felt at ease with Paul. Whether it was cracking a joke together or talking about the importance of mental toughness in driving. I would recommend giving LDC and Paul a try, they guided me through the process and they couldn't have done a better job, as I passed first time!"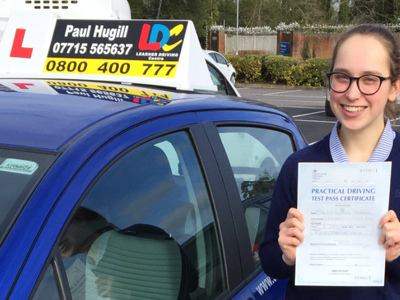 Lucy Hargrave
Motorway Lesson. Ex-Benenden student
A motorway lesson is a really great investment for anyone who has recently passed their test. A three hour lesson, driving at speed and in a new driving environment was able to improve my confidence and safety on the motorway massively. Paul gave loads of really helpful and motorway specific tips, such as the added importance of using your mirrors. There was also the added benefit to have a 'check-up' on my driving technique a few weeks after my test. Would 100% recommend! Thank you so much again for being such a great driving instructor.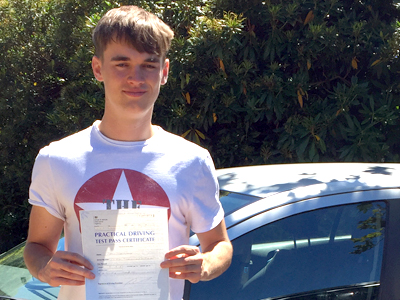 Cameron Cummings
Cranbrook School student. Passed 1st time
"I would heavily recommend Paul, he is a brilliant instructor, I found him to be very thorough in his approach and methodology, which vital for ensuring you become a safe driver. I also really enjoyed all of my driving lessons and this was completely due to Paul being so patient and cheerful every lesson. In the build up to my driving test I was incredibly nervous and Paul really helped boost my confidence, which really suggests how experienced he is and why he is a very good instructor.
I found the LDC system incredibly beneficial and effective. I found the LDC Driving Skills workbook that is provided essential for my success in my driving test that I passed upon 1st attempt."
Hallie Trill
Benenden School parent
"We would like to thank you for the tuition you have given her, she very much enjoyed her lessons with you and learnt a lot."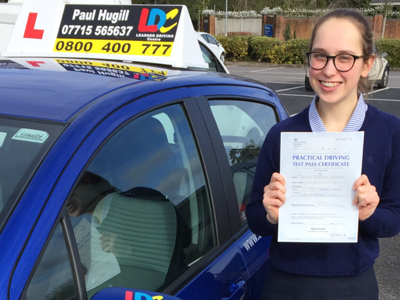 Lucy Hargraves
Benenden School student. Passed 1st time.
"I could not recommend Paul more highly. He was professional and highly knowledgeable, and a fun and enjoyable person to learn from. The main reason I would recommend Paul as an instructor, was how personal to your needs Paul makes your driving experience. He was able to easily identify my areas for improvement and was organised and focused in his lesson planning. He was constantly adapting his teaching structure to suit my preferences. His commitment to me and preparing me for my test was clear throughout my experience, with extra tips and recommendations allowing me to feel confident in my driving and in the driving test process. This all ultimately attributed to my first-time pass. I have spoken to my mum about the Motorway lesson and we both think that driving up the Purley Way to Ikea would be a great idea, as I could also experience a small glimpse of London driving and get to drive parts of the M25 on the way up there."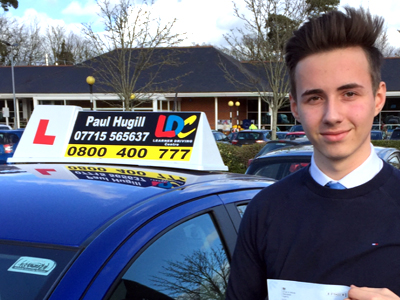 Sam King
Cranbrook School student. Passed 1st time…no minors!
"Paul is an excellent instructor and his teaching style really worked for me. I appreciated the effort he went to in creating mantras to say over to keep my cool while driving in stressful situations and the build-up to my driving test. He really makes an effort to understand people and from that suit his teaching methods for each individual. With my first block lessons of driving I found that the LDC book was a great tool to fill in any gaps and questions I may have had about the previous lessons or upcoming ones. The quizzes at the also really helped to solidify the topic. Thanks a lot Paul for all your help, 100% would recommend."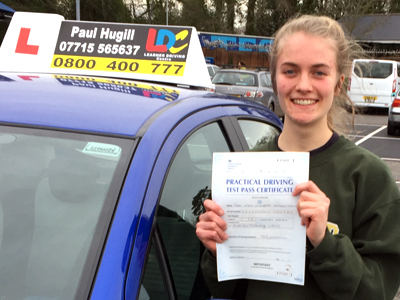 Daisy Henley
Cranbrook School student. Passed 1st time.
"With Paul, I gained a first time pass, and a lifetime's worth of advice about driving skills and safety on the road. To compliment his adaptability in lessons, he is also very easy to interact with and therefore he is able to quickly increase your confidence in driving and gives excellent tips on how to keep yourself calm on an actual test. On my LDC experience I referred frequently back to the LDC book, in particular the driving test guide which gives you an insight into what the examiners are looking for, and how you could obtain faults. I would highly recommend Paul to anyone wishing to learn to drive."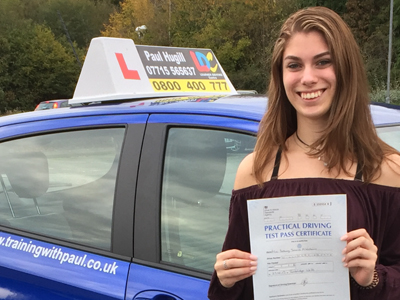 Beth Williams
Kent College Pembury student
"Paul was a great instructor, I loved how confident a driver he made me. Throughout my learning experience I had a number of moments when I was nervous about my driving abilities, but every time Paul would find a way to reassure me of my skills and ability to drive confidently and competently. He had a special talent at making his learners feel at ease. Paul's unique style of teaching using psychological methods to increase performance and relaxation were also very beneficial to me and I will be using them not only in my driving but also on a day to day basis in the future. I would strongly recommend Paul as a driving instructor for anyone, as he was a pleasure to have as an instructor. Paul has a lovely personality and will always encourage you to be your best self and will inspire you to challenge yourself and become a more confident version of yourself in everything you do."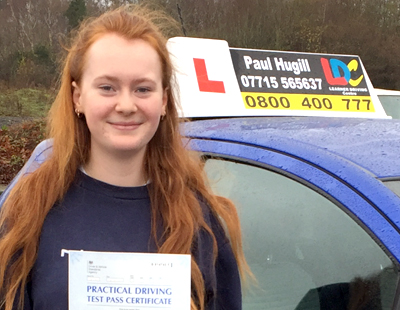 Cordelia Cook
Benenden School student. Passed 1st time.
"I have loved learning to drive with Paul. I feel that the course was extremely comprehensive and covered every aspect of driving for the test. By covering every subject I was able to make the most of my lessons and use the time we had very efficiently. Paul was always patient and clear in his explanations. He gave me every confidence that I would be successful when I took my test. In fact, without any practise outside of my lessons, I was able to pass first time with a small number of minors, which I was very happy with! I would always recommend Paul and the LDC course."
Tom Sturgeon
West Kent College student
"I found Paul a professional driving instructor, we worked through different parts of the test and then went back and improved things I had trouble with. He has techniques to help you remember things, such as the "show me, tell me" questions, which was very helpful. He also went round almost all of the possible test routes I could do. I also bought the LDC book from Paul, which has lots of tips and information which helped me pass. I found him calm and clear. I would recommend him."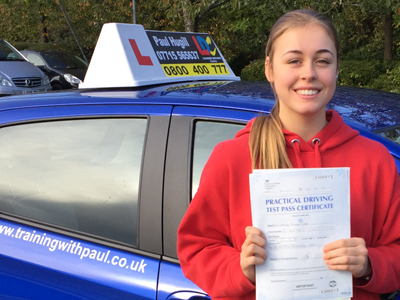 Izzy Gibbs
Benenden School student
"Paul has been kind, efficient and professional when teaching me how to drive. Without him, I would never have been able to pass my test and enjoyed the Learning to Drive experience as much. The LDC system is genius and the Drivers Skills workbook has been a massive help in my journey. His encouragement and expertise has got me to be a competent driver. Highly recommended!"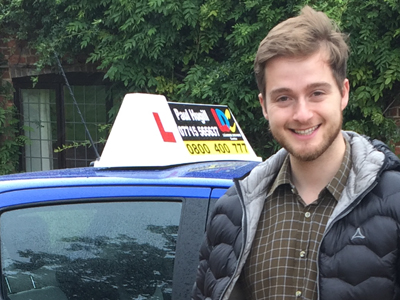 William Bilton
Mature Medical Student
"I highly recommend Paul as a driving instructor. He uniquely encourages learning through allowing the student to be aware of and to correct their own mistakes, as opposed to simply directing what is right and wrong; that has definitely made me (and I'm sure others) a safer driver! Paul was highly professional and punctual at all times. Above all he is very personable, which is crucial in building the "student/instructor rapport", that is so important in creating confident and safe new drivers!"
Fleur Cook
Parent at Benenden School
"We were absolutely thrilled with her pass – even more so because she has had no practice whatsoever outside her lessons, as we are unable to insure her on our car. It really shows what excellent teaching she has had from you and we are very grateful. I would definitely like her to do the Motorway driving course with you. I will continue to recommend you wholeheartedly to everyone I can."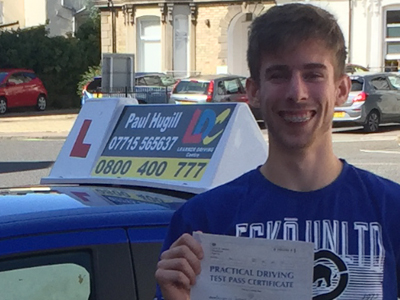 Ben Williams
Skinners student. Passed 1st time.
"Paul is very easy to get along with and helped me to pass my test first time. Paul puts in extra effort to ensure all learner's first experiences of driving are as easy and productive as possible while keeping a light tone with a good sense of humour. I would highly recommend learning to drive with Paul as he has helped me become a safe and confident driver."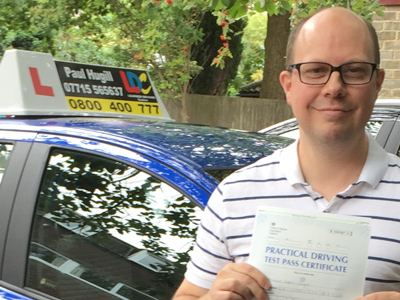 Michael Wright
Mature student. Works in London lives in Tunbridge Wells
"I enjoyed the structured methodology and modern teaching methods, which helped maximise my lesson time and meant I could use the time in-between reflecting on what I had learnt and what I wanted to get from the next lesson. Paul is a very calm, good humoured instructor and focuses both on the technical and psychological elements required to pass the test. Paul is very knowledgeable, his experience and understanding of the local area and tricky points for drivers was invaluable."
James Gotke
Student from Sutton Valance school. Based in Staplehurst
"I would 100% recommend the LDC Student Hub to anyone who wants to pass their theory test, as I believe it is the most efficient way to do so. Paul's style is to build confidence through understanding ability and through very clear communication. Paul is calm and aware, and this feeds through to his pupils. Paul's ability to analyse a learner driver's abilities and what he needs to refine and to conquer these quickly, stands out for me. He is extremely professional. He doesn't hesitate to point out errors and works hard to iron them out. Part of Paul's approach is to ensure the learner is not stressed and uses humour to keep pupils relaxed, but without creating any distractions! My experience with Paul has been very positive, so I will definitely recommend him to friends as he brings out the best in people."
Wendy Grosvenor
Parent of a current Cranbrook School student.
"She is really enjoying driving and this is thanks to you being kind and considerate, giving her buckets of advice and confidence."
Robert Battle
Mature student. Passed 1st time
"Paul made me feel comfortable and confident from day one. Brilliant and clear instruction, helped me with being confident on the roads and most importantly teaching me all the valuable skills to be a safe and competent driver. The LDC system is a great system as well, keeping a track on your progress and it helps highlight areas that need work. With Paul's fantastic instruction, I passed 1st time. If you are looking for a great instructor that will teach you driving skills for life, then look no further. 6 out of 5 stars!"
Imy Rowlinson
Cranbrook School student. Passed 1st time after switching from another instructor. 32 hours of instruction.
"I felt at ease from the onset with Paul's relaxed teaching style and the few moments spent before and after driving to reflect on progress. His coaching approach allowed me to guide the lesson content and have more control over my driving experience. Paul has a good sense of humour and gave me the confidence I needed to pass my test first time which I don't think I would have done without his expect guidance and advice. I have no hesitation in recommending Paul at LDC and only wish he had been recommended to me sooner!"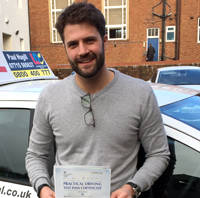 Michael Orson
Intensive - passed 1st time
"With a very limited time to learn to drive and pass a test, I did an intensive course with Paul, which involved around 25 hours of lessons. Paul has an excellent teaching style, and explained and demonstrated everything in a way that allowed me to very quickly and safely take ownership of driving. He also offered techniques for remaining calm and focussed before the test, which was hugely beneficial. I passed first time and can highly recommend Paul."