Wendy Grosvenor
Parent of a current Cranbrook School student.
"She is really enjoying driving and this is thanks to you being kind and considerate, giving her buckets of advice and confidence."
Robert Battle
Mature student. Passed 1st time
"Paul made me feel comfortable and confident from day one. Brilliant and clear instruction, helped me with being confident on the roads and most importantly teaching me all the valuable skills to be a safe and competent driver. The LDC system is a great system as well, keeping a track on your progress and it helps highlight areas that need work. With Paul's fantastic instruction, I passed 1st time. If you are looking for a great instructor that will teach you driving skills for life, then look no further. 6 out of 5 stars!"
Imy Rowlinson
Cranbrook School student. Passed 1st time after switching from another instructor. 32 hours of instruction.
"I felt at ease from the onset with Paul's relaxed teaching style and the few moments spent before and after driving to reflect on progress. His coaching approach allowed me to guide the lesson content and have more control over my driving experience. Paul has a good sense of humour and gave me the confidence I needed to pass my test first time which I don't think I would have done without his expect guidance and advice. I have no hesitation in recommending Paul at LDC and only wish he had been recommended to me sooner!"
Pip Gedes
Refresher Course
Pip had lessons from previous instructors but due to work pressure took a break from driving. She asked me to help her with a "refresher course" of just 10 hours of driving. She passed 1st time with just 4 minors.
"Paul is a wonderful driving instructor. He gave me the confidence and the techniques which enabled me to pass my test first time. I'm thrilled!"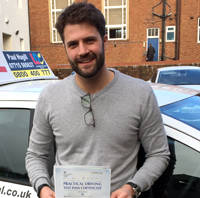 Michael Orson
Intensive - passed 1st time
"With a very limited time to learn to drive and pass a test, I did an intensive course with Paul, which involved around 25 hours of lessons. Paul has an excellent teaching style, and explained and demonstrated everything in a way that allowed me to very quickly and safely take ownership of driving. He also offered techniques for remaining calm and focussed before the test, which was hugely beneficial. I passed first time and can highly recommend Paul."